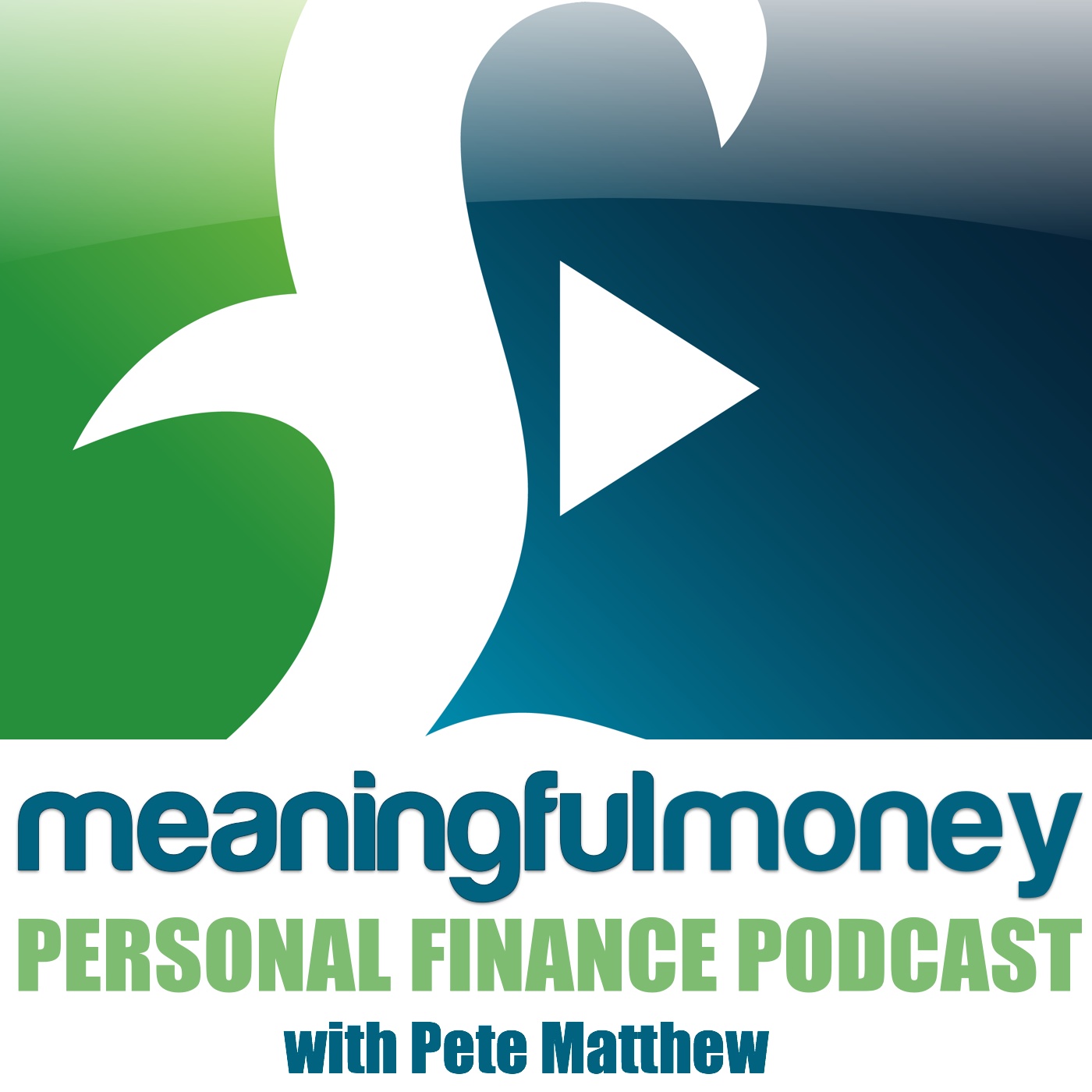 Welcome to the home page for the Meaningful Money podcast! The show goes out weekly, and is a more in-depth look at the different aspects of personal financial planning than I could ever do in video.
The show is divided into two segments covering the topic for that session:
Everything you need to KNOW
Everything you need to DO
Here's the latest episode:
Would you do me a favour? If you like the podcast, would you please leave me a rating or review on iTunes? It helps get the word out and lets other people find out about the show – thanks so much!
---
Season Two
Season Two of the MeaningfulMoney Podcast is a deep dive into everything you need to KNOW and everything you need to DO when getting started with your investments. Scroll down for Season One…
---
Season One
We're right in the middle of renewing the website and have also moved the podcast to a seasons based show. Below is the entire back catalogue of Season One, all 163 episodes of it!
Podcast Archive

| # | Title | Released |
| --- | --- | --- |
| | A Framework For Good Decisions, Part 2 | 10/12/2016 |
| | A Framework For Good Decisions, Part 1 | 10/05/2016 |
| 174 | The Feel Rich Project, with Michael F. Kay | 09/14/2016 |
| 163 | Brexit – What Next? | 06/29/2016 |
| 162 | Some announcements | 06/22/2016 |
| | Dealing with Financial Paperwork | 06/08/2016 |
| 161 | Using Trusts In Financial Planning | 06/01/2016 |
| 159 | Getting on the housing ladder with Shared Ownership | 05/18/2016 |
| 158 | What's next for property? | 05/11/2016 |
| 157 | Making Money Online in 2016 | 05/04/2016 |
| 156 | Net Worth – What to do if you're not on target | 04/27/2016 |
| 155 | Five things to track when growing Net Worth | 04/20/2016 |
| 154 | Net Worth – How much is enough? | 04/13/2016 |
| 153 | Listener Questions Answered | 04/06/2016 |
| | Financial Forecasting with Andy Hart | 03/30/2016 |
| 152 | Budget 2016 | 03/18/2016 |
| 151 | Financial Wellbeing with Chris Budd | 03/16/2016 |
| 150 | How Will Brexit Affect My Investments? | 03/09/2016 |
| 148 | Tax-efficient investing checklist | 02/24/2016 |
| 147 | Capital Gains Tax Planning & Inheritance Tax Planning | 02/17/2016 |
| 146 | Income Tax Planning | 02/10/2016 |
| 145 | Personal Taxation Overview | 02/03/2016 |
| 144 | Playing Catch-up – Retirement savings tips for late starters | 01/27/2016 |
| 143 | What if your provider fails? | 01/20/2016 |
| 142 | Financial Fads and Fashions | 01/13/2016 |
| 141 | New Year Questions | 01/06/2016 |
| 140 | 2015 Listener Survey Results | 12/16/2015 |
| 139 | Preparing for self-employment | 12/09/2015 |
| 138 | Adviser Alpha | 12/02/2015 |
| 137 | Making More Money | 11/25/2015 |
| 136 | Setting Multiple Goals | 11/18/2015 |
| 135 | State Pension Changes in 2016 | 11/11/2015 |
| 134 | Transferring final salary pensions | 11/04/2015 |
| 133 | You vs You – How to keep going | 10/28/2015 |
| 132 | The Power of Cashflow, with J. Massey | 10/21/2015 |
| 131 | Applying for a Mortgage, with Andrew Montlake | 10/14/2015 |
| 130 | Peer to Peer Lending explained – worth a look? | 10/07/2015 |
| 129 | Celebrity Fund Managers – should you bother? | 09/30/2015 |
| 128 | What to do about low interest rates | 09/23/2015 |
| 127 | Two Important Changes You Need To Understand | 09/16/2015 |
| 126 | Pay off mortgage early or invest for the future? | 09/09/2015 |
| 125 | The Rise of the Robo-Adviser, with Al Rush | 09/02/2015 |
| 124 | Greece and China, what's it all about? | 08/26/2015 |
| 123 | How much money do I need to retire? With Todd Tresidder | 08/19/2015 |
| 122 | Making Money Less Boring with Holly Mackay | 08/12/2015 |
| 121 | How To Choose Investment Funds | 08/05/2015 |
| 120 | Understanding Investment Sectors | 07/29/2015 |
| 119 | The Godfather of Risk – Paul Resnik | 07/22/2015 |
| 118 | Tips for making good investment decisions | 07/15/2015 |
| 117 | Rich As A King, with Doug Goldstein | 07/08/2015 |
| 116 | A Day In The Life Of Yours Truly | 07/01/2015 |
| 115 | Financial Planning for Singles | 06/24/2015 |
| 114 | The 80:20 Investor, with Damien Fahy | 06/17/2015 |
| 113 | Putting your finances on auto-pilot | 06/10/2015 |
| 112 | Investment Masterclass 4: Understanding Costs | 06/03/2015 |
| 111 | Investment Masterclass 3: Setting Targets | 05/27/2015 |
| 110 | The One-Page Financial Plan with Carl Richards | 05/20/2015 |
| | Meaningful University is GO! | 05/15/2015 |
| 109 | Behavioural Finance: Making Good Decisions | 05/13/2015 |
| 108 | Behavioural Finance: Beeswax and Ropes | 05/06/2015 |
| 107 | Budget To Win | 04/29/2015 |
| 106 | Investment Masterclass Part 2 – Risk & Return | 04/22/2015 |
| 105 | Investment Masterclass Part 1 – Asset Allocation | 04/15/2015 |
| 104 | How Pensions Really Work | 04/08/2015 |
| 103 | Pound Cost Ravaging | 04/01/2015 |
| 102 | Tax year-end planning | 03/25/2015 |
| 101 | What have we learned? | 03/18/2015 |
| 100 | It's Session 100! | 03/11/2015 |
| 99 | Teaching Children About Money – Part Two, with GoHenry | 03/04/2015 |
| 98 | Financial Planning for Ex-Pats | 02/25/2015 |
| 97 | The Ten Financial Commandments | 02/18/2015 |
| 96 | How to review an investment portfolio | 02/11/2015 |
| 95 | Self-Employed Finances | 02/04/2015 |
| 94 | Planning Across Generations | 01/28/2015 |
| 93 | Net Worth – Define it, Build it, Protect it. | 01/21/2015 |
| 92 | Four steps to running your personal finances like a business, with Roger Whitney | 01/14/2015 |
| 91 | 2015 Savings Challenge with Moneystepper | 01/07/2015 |
| 90 | A Christmas Surprise | 12/24/2014 |
| 89 | Busting Some Inheritance Tax Myths | 12/17/2014 |
| 88 | Protection Revisited | 12/10/2014 |
| 87 | The Seven Families Initiative with Peter Le Beau | 12/03/2014 |
| 86 | Ready, Steady, Retire! with Justin King & Martin Bamford | 11/26/2014 |
| 85 | Financial Life Planning with Tina Weeks | 11/19/2014 |
| 84 | In Defence of the Annuity | 11/12/2014 |
| 83 | How Much Is Enough? | 11/05/2014 |
| 82 | Market Update with Justin Urquhart Stewart | 10/29/2014 |
| 81 | Advanced Investing – VCTs and EISs | 10/22/2014 |
| 80 | Pension or ISA? | 10/15/2014 |
| 79 | Financial Forecasting with Andy Hart | 10/08/2014 |
| 78 | Protecting Your Pension | 10/01/2014 |
| 77 | Ten Years Out – The Run-In To Retirement | 09/24/2014 |
| 76 | How To Win The Loser's Game with Robin Powell | 09/17/2014 |
| 75 | Direct Investment Platforms with Mark Polson | 09/10/2014 |
| 74 | How I Invest, with Abraham Okusanya | 09/03/2014 |
| 73 | How To Retire Early – Part Two | 08/27/2014 |
| 72 | How To Retire Early, Part One | 08/20/2014 |
| 71 | Keeping Your Head In A Financial Storm | 08/13/2014 |
| 70 | Investment Trusts – Misunderstood and Underused | 08/06/2014 |
| | Session 26 – Teaching Children About Money | 07/30/2014 |
| 69 | 2014 Listener Survey Results | 07/23/2014 |
| 68 | Mid-year Goals update | 07/16/2014 |
| | Session 12 – How to invest in property | 07/09/2014 |
| 67 | Shares vs Funds – The Grudge Match | 07/02/2014 |
| 66 | Safe Returns – An Interview With David Crozier | 06/25/2014 |
| 65 | Hot Topics – Collective Pensions and Eurozone Interest Rates | 06/18/2014 |
| 64 | Investment Terms Explained | 06/11/2014 |
| 63 | How To Spot A Shark – 7 Signs Your Adviser May Be Ripping You Off | 06/04/2014 |
| 62 | Mortgage Stress Tests | 05/28/2014 |
| 61 | The Three T's of Intelligent Investing | 05/21/2014 |
| 60 | The Little Things – An Interview With Damien Fahy | 05/14/2014 |
| 59 | Zombie Funds, And What To Do With Them | 05/07/2014 |
| 58 | All About Funds | 04/30/2014 |
| 57 | Your Questions Answered | 04/23/2014 |
| 56 | Life Stages | 04/16/2014 |
| 55 | How To Talk To Your Partner About Money | 04/09/2014 |
| 54 | Investing In Shares | 04/02/2014 |
| 53 | Budget 2014 | 03/26/2014 |
| 52 | Giving Money Away | 03/19/2014 |
| 51 | Ukraine and other crises | 03/12/2014 |
| 50 | Exchange Traded Products | 03/05/2014 |
| 49 | Financial Planning vs Financial Advice | 02/26/2014 |
| 48 | Getting Money In Perspective | 02/19/2014 |
| 47 | Investing for Income | 02/12/2014 |
| 46 | How to Organise Financial Paperwork | 02/05/2014 |
| 45 | Applying for Probate and Administering an Estate | 01/29/2014 |
| 44 | Preparing your tax return | 01/22/2014 |
| 43 | Nine Investing Mistakes And How To Avoid Them | 01/15/2014 |
| 42 | New Year Goals – Set them and stick to them | 01/08/2014 |
| 41 | Building an Investment Portfolio | 12/18/2013 |
| 40 | Surviving Christmas with your finances intact | 12/11/2013 |
| 39 | My Personal Finance Room 101 | 12/04/2013 |
| 38 | Financial Planning Week – Seven Reasons to Use A Financial Planner | 11/27/2013 |
| 37 | DIY Investment Platforms | 11/20/2013 |
| 36 | Four Steps to Financial Freedom | 11/13/2013 |
| 35 | Auto-enrolment – A huge change to workplace pensions | 11/06/2013 |
| 34 | The Financial and Emotional Impact of Bereavement | 10/30/2013 |
| 33 | Equity Release Explained | 10/23/2013 |
| 32 | The (Only) Three Uses Of Money | 10/16/2013 |
| 31 | Eleven Financial Education Resources | 10/09/2013 |
| 30 | Financial Planning for Divorce | 10/02/2013 |
| 29 | Long Term Care Planning | 09/25/2013 |
| 28 | Wayfinder, plus listener questions | 09/18/2013 |
| 27 | Top Ten Personal Finance FAQs Answered | 09/11/2013 |
| 26 | Teaching Children About Money | 09/04/2013 |
| 25 | Wills and Powers of Attorney | 08/28/2013 |
| 24 | Lessons from the super-rich | 08/21/2013 |
| 23 | Ten Golden Rules of Personal Finance | 08/14/2013 |
| 22 | All About Trusts | 08/07/2013 |
| 21 | Saving for Children | 07/31/2013 |
| 20 | Around The World In 40 Minutes – An interview with Justin Urquhart Stewart | 07/24/2013 |
| 19 | All About Tax | 07/17/2013 |
| 18 | An Introduction to Mortgages | 07/10/2013 |
| 17 | Borrowing Money Wisely | 07/03/2013 |
| 16 | Risk and its impact on your finances | 06/26/2013 |
| 15 | Inflation Explained | 06/19/2013 |
| 14 | Pensions Income and Retirement Choices | 06/12/2013 |
| 13 | Making sense of Pensions | 06/05/2013 |
| 12 | How to invest in property | 05/29/2013 |
| 11 | Platforms, Wrappers and Funds – The building blocks of a portfolio | 05/21/2013 |
| 10 | Asset Classes, or…Stuff you can invest in | 05/09/2013 |
| 9 | Inheritance Tax and Estate Planning | 04/27/2013 |
| 8 | How to find a Financial Adviser | 03/25/2013 |
| 7 | Protecting Your Future With Life Insurance, Critical Illness Insurance and Income Protection | 03/04/2013 |
| 6 | An Introduction to Investing – An interview with Justin Urquhart Stewart | 02/12/2013 |
| 5 | How to start saving | 01/17/2013 |
| 4 | Five steps to get out of debt | 12/30/2012 |
| 3 | How to Budget | 12/03/2012 |
| 2 | Five Fundamentals for Financial Success | 11/25/2012 |
| 1 | Podcast Session 1 – Introducing the MM Personal Finance Podcast | 11/17/2012 |