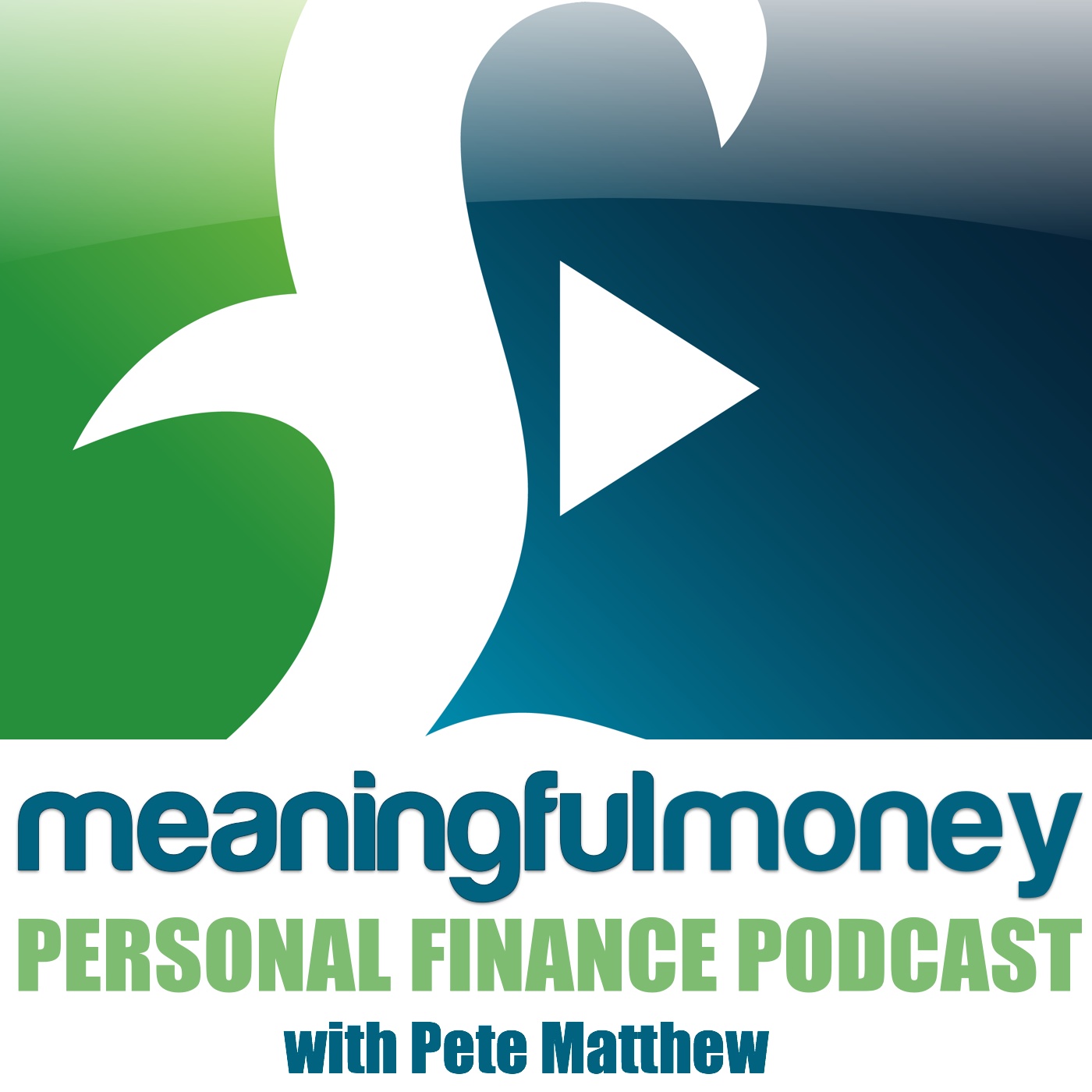 Welcome to the home page for the Meaningful Money podcast! The show goes out weekly, and is a more in-depth look at the different aspects of personal financial planning than I could ever do in video.
The show is divided into two segments covering the topic for that session:
Everything you need to KNOW
Everything you need to DO
If you have a question you'd like me to answer, or a particular subject you'd like me to cover, the best way to do that is to leave me a voicemail using the fabulous SpeakPipe system. Just click the green bar at the far right of every page on this site and follow the instructions. Or you could just email me.
Here's the latest episode:
Would you do me a favour? If you like the podcast, would you please leave me a rating or review on iTunes? It helps get the word out and lets other people find out about the show – thanks so much!
Podcast Archive

| # | Title | Released |
| --- | --- | --- |
| 162 | Some announcements | 06/22/2016 |
| | Dealing with Financial Paperwork | 06/08/2016 |
| 161 | Using Trusts In Financial Planning | 06/01/2016 |
| 159 | Getting on the housing ladder with Shared Ownership | 05/18/2016 |
| 158 | What's next for property? | 05/11/2016 |
| 157 | Making Money Online in 2016 | 05/04/2016 |
| 156 | Net Worth – What to do if you're not on target | 04/27/2016 |
| 155 | Five things to track when growing Net Worth | 04/20/2016 |
| 154 | Net Worth – How much is enough? | 04/13/2016 |
| 153 | Listener Questions Answered | 04/06/2016 |
| | Financial Forecasting with Andy Hart | 03/30/2016 |
| 152 | Budget 2016 | 03/18/2016 |
| 151 | Financial Wellbeing with Chris Budd | 03/16/2016 |
| 150 | How Will Brexit Affect My Investments? | 03/09/2016 |
| 148 | Tax-efficient investing checklist | 02/24/2016 |
| 147 | Capital Gains Tax Planning & Inheritance Tax Planning | 02/17/2016 |
| 146 | Income Tax Planning | 02/10/2016 |
| 145 | Personal Taxation Overview | 02/03/2016 |
| 144 | Playing Catch-up – Retirement savings tips for late starters | 01/27/2016 |
| 143 | What if your provider fails? | 01/20/2016 |
| 142 | Financial Fads and Fashions | 01/13/2016 |
| 141 | New Year Questions | 01/06/2016 |
| 140 | 2015 Listener Survey Results | 12/16/2015 |
| 139 | Preparing for self-employment | 12/09/2015 |
| 138 | Adviser Alpha | 12/02/2015 |
| 137 | Making More Money | 11/25/2015 |
| 136 | Setting Multiple Goals | 11/18/2015 |
| 135 | State Pension Changes in 2016 | 11/11/2015 |
| 134 | Transferring final salary pensions | 11/04/2015 |
| 133 | You vs You – How to keep going | 10/28/2015 |
| 132 | The Power of Cashflow, with J. Massey | 10/21/2015 |
| 131 | Applying for a Mortgage, with Andrew Montlake | 10/14/2015 |
| 130 | Peer to Peer Lending explained – worth a look? | 10/07/2015 |
| 129 | Celebrity Fund Managers – should you bother? | 09/30/2015 |
| 128 | What to do about low interest rates | 09/23/2015 |
| 127 | Two Important Changes You Need To Understand | 09/16/2015 |
| 126 | Pay off mortgage early or invest for the future? | 09/09/2015 |
| 125 | The Rise of the Robo-Adviser, with Al Rush | 09/02/2015 |
| 124 | Greece and China, what's it all about? | 08/26/2015 |
| 123 | How much money do I need to retire? With Todd Tresidder | 08/19/2015 |
| 122 | Making Money Less Boring with Holly Mackay | 08/12/2015 |
| 121 | How To Choose Investment Funds | 08/05/2015 |
| 120 | Understanding Investment Sectors | 07/29/2015 |
| 119 | The Godfather of Risk – Paul Resnik | 07/22/2015 |
| 118 | Tips for making good investment decisions | 07/15/2015 |
| 117 | Rich As A King, with Doug Goldstein | 07/08/2015 |
| 116 | A Day In The Life Of Yours Truly | 07/01/2015 |
| 115 | Financial Planning for Singles | 06/24/2015 |
| 114 | The 80:20 Investor, with Damien Fahy | 06/17/2015 |
| 113 | Putting your finances on auto-pilot | 06/10/2015 |
| 112 | Investment Masterclass 4: Understanding Costs | 06/03/2015 |
| 111 | Investment Masterclass 3: Setting Targets | 05/27/2015 |
| 110 | The One-Page Financial Plan with Carl Richards | 05/20/2015 |
| | Meaningful University is GO! | 05/15/2015 |
| 109 | Behavioural Finance: Making Good Decisions | 05/13/2015 |
| 108 | Behavioural Finance: Beeswax and Ropes | 05/06/2015 |
| 107 | Budget To Win | 04/29/2015 |
| 106 | Investment Masterclass Part 2 – Risk & Return | 04/22/2015 |
| 105 | Investment Masterclass Part 1 – Asset Allocation | 04/15/2015 |
| 104 | How Pensions Really Work | 04/08/2015 |
| 103 | Pound Cost Ravaging | 04/01/2015 |
| 102 | Tax year-end planning | 03/25/2015 |
| 101 | What have we learned? | 03/18/2015 |
| 100 | It's Session 100! | 03/11/2015 |
| 99 | Teaching Children About Money – Part Two, with GoHenry | 03/04/2015 |
| 98 | Financial Planning for Ex-Pats | 02/25/2015 |
| 97 | The Ten Financial Commandments | 02/18/2015 |
| 96 | How to review an investment portfolio | 02/11/2015 |
| 95 | Self-Employed Finances | 02/04/2015 |
| 94 | Planning Across Generations | 01/28/2015 |
| 93 | Net Worth – Define it, Build it, Protect it. | 01/21/2015 |
| 92 | Four steps to running your personal finances like a business, with Roger Whitney | 01/14/2015 |
| 91 | 2015 Savings Challenge with Moneystepper | 01/07/2015 |
| 90 | A Christmas Surprise | 12/24/2014 |
| 89 | Busting Some Inheritance Tax Myths | 12/17/2014 |
| 88 | Protection Revisited | 12/10/2014 |
| 87 | The Seven Families Initiative with Peter Le Beau | 12/03/2014 |
| 86 | Ready, Steady, Retire! with Justin King & Martin Bamford | 11/26/2014 |
| 85 | Financial Life Planning with Tina Weeks | 11/19/2014 |
| 84 | In Defence of the Annuity | 11/12/2014 |
| 83 | How Much Is Enough? | 11/05/2014 |
| 82 | Market Update with Justin Urquhart Stewart | 10/29/2014 |
| 81 | Advanced Investing – VCTs and EISs | 10/22/2014 |
| 80 | Pension or ISA? | 10/15/2014 |
| 79 | Financial Forecasting with Andy Hart | 10/08/2014 |
| 78 | Protecting Your Pension | 10/01/2014 |
| 77 | Ten Years Out – The Run-In To Retirement | 09/24/2014 |
| 76 | How To Win The Loser's Game with Robin Powell | 09/17/2014 |
| 75 | Direct Investment Platforms with Mark Polson | 09/10/2014 |
| 74 | How I Invest, with Abraham Okusanya | 09/03/2014 |
| 73 | How To Retire Early – Part Two | 08/27/2014 |
| 72 | How To Retire Early, Part One | 08/20/2014 |
| 71 | Keeping Your Head In A Financial Storm | 08/13/2014 |
| 70 | Investment Trusts – Misunderstood and Underused | 08/06/2014 |
| | Session 26 – Teaching Children About Money | 07/30/2014 |
| 69 | 2014 Listener Survey Results | 07/23/2014 |
| 68 | Mid-year Goals update | 07/16/2014 |
| | Session 12 – How to invest in property | 07/09/2014 |
| 67 | Shares vs Funds – The Grudge Match | 07/02/2014 |
| 66 | Safe Returns – An Interview With David Crozier | 06/25/2014 |
| 65 | Hot Topics – Collective Pensions and Eurozone Interest Rates | 06/18/2014 |
| 64 | Investment Terms Explained | 06/11/2014 |
| 63 | How To Spot A Shark – 7 Signs Your Adviser May Be Ripping You Off | 06/04/2014 |
| 62 | Mortgage Stress Tests | 05/28/2014 |
| 61 | The Three T's of Intelligent Investing | 05/21/2014 |
| 60 | The Little Things – An Interview With Damien Fahy | 05/14/2014 |
| 59 | Zombie Funds, And What To Do With Them | 05/07/2014 |
| 58 | All About Funds | 04/30/2014 |
| 57 | Your Questions Answered | 04/23/2014 |
| 56 | Life Stages | 04/16/2014 |
| 55 | How To Talk To Your Partner About Money | 04/09/2014 |
| 54 | Investing In Shares | 04/02/2014 |
| 53 | Budget 2014 | 03/26/2014 |
| 52 | Giving Money Away | 03/19/2014 |
| 51 | Ukraine and other crises | 03/12/2014 |
| 50 | Exchange Traded Products | 03/05/2014 |
| 49 | Financial Planning vs Financial Advice | 02/26/2014 |
| 48 | Getting Money In Perspective | 02/19/2014 |
| 47 | Investing for Income | 02/12/2014 |
| 46 | How to Organise Financial Paperwork | 02/05/2014 |
| 45 | Applying for Probate and Administering an Estate | 01/29/2014 |
| 44 | Preparing your tax return | 01/22/2014 |
| 43 | Nine Investing Mistakes And How To Avoid Them | 01/15/2014 |
| 42 | New Year Goals – Set them and stick to them | 01/08/2014 |
| 41 | Building an Investment Portfolio | 12/18/2013 |
| 40 | Surviving Christmas with your finances intact | 12/11/2013 |
| 39 | My Personal Finance Room 101 | 12/04/2013 |
| 38 | Financial Planning Week – Seven Reasons to Use A Financial Planner | 11/27/2013 |
| 37 | DIY Investment Platforms | 11/20/2013 |
| 36 | Four Steps to Financial Freedom | 11/13/2013 |
| 35 | Auto-enrolment – A huge change to workplace pensions | 11/06/2013 |
| 34 | The Financial and Emotional Impact of Bereavement | 10/30/2013 |
| 33 | Equity Release Explained | 10/23/2013 |
| 32 | The (Only) Three Uses Of Money | 10/16/2013 |
| 31 | Eleven Financial Education Resources | 10/09/2013 |
| 30 | Financial Planning for Divorce | 10/02/2013 |
| 29 | Long Term Care Planning | 09/25/2013 |
| 28 | Wayfinder, plus listener questions | 09/18/2013 |
| 27 | Top Ten Personal Finance FAQs Answered | 09/11/2013 |
| 26 | Teaching Children About Money | 09/04/2013 |
| 25 | Wills and Powers of Attorney | 08/28/2013 |
| 24 | Lessons from the super-rich | 08/21/2013 |
| 23 | Ten Golden Rules of Personal Finance | 08/14/2013 |
| 22 | All About Trusts | 08/07/2013 |
| 21 | Saving for Children | 07/31/2013 |
| 20 | Around The World In 40 Minutes – An interview with Justin Urquhart Stewart | 07/24/2013 |
| 19 | All About Tax | 07/17/2013 |
| 18 | An Introduction to Mortgages | 07/10/2013 |
| 17 | Borrowing Money Wisely | 07/03/2013 |
| 16 | Risk and its impact on your finances | 06/26/2013 |
| 15 | Inflation Explained | 06/19/2013 |
| 14 | Pensions Income and Retirement Choices | 06/12/2013 |
| 13 | Making sense of Pensions | 06/05/2013 |
| 12 | How to invest in property | 05/29/2013 |
| 11 | Platforms, Wrappers and Funds – The building blocks of a portfolio | 05/21/2013 |
| 10 | Asset Classes, or…Stuff you can invest in | 05/09/2013 |
| 9 | Inheritance Tax and Estate Planning | 04/27/2013 |
| 8 | How to find a Financial Adviser | 03/25/2013 |
| 7 | Protecting Your Future With Life Insurance, Critical Illness Insurance and Income Protection | 03/04/2013 |
| 6 | An Introduction to Investing – An interview with Justin Urquhart Stewart | 02/12/2013 |
| 5 | How to start saving | 01/17/2013 |
| 4 | Five steps to get out of debt | 12/30/2012 |
| 3 | How to Budget | 12/03/2012 |
| 2 | Five Fundamentals for Financial Success | 11/25/2012 |
| 1 | Podcast Session 1 – Introducing the MM Personal Finance Podcast | 11/17/2012 |