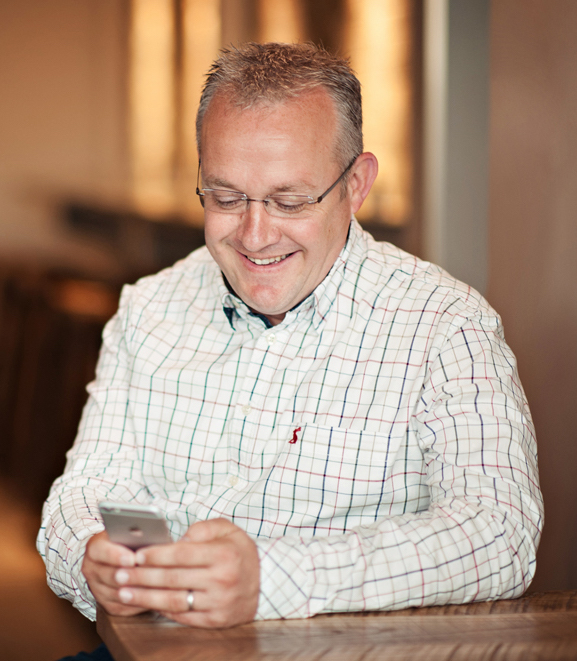 My life goal is to help as many people as possible to master their money and secure their financial future. That's why I've been posting free content here on Meaningful Money since 2010.
For obvious reasons, the information on this site is generic. I hope it's of use to you in helping you to learn more about financial planning, and in steering you on to the right path towards your ambitions.
There are a couple of other ways that you can work with me to take things to the next level, and the purpose of this page is to explain how they work, and what you can expect.
There are three levels to my content and work:
Starting at the bottom of the pyramid to the right, the first level is Meaningful Money, the site you're on right now. There are thousands of podcasts, videos and articles on this site on just about every area of personal financial planning. The best way to find what you're looking for is to head over the Learning Centre.
Next is Meaningful Academy, which contains my most focused thinking and enables you to make serious progress quickly. Each phase of the Academy is designed to help you at a specific financial life-stage. You can find out much more at the Meaningful Academy homepage.
Finally, if you want to work with me individually, this will need to be through my regulated financial planning practice, Jacksons Wealth Management. Scroll down to find out more about how that might work: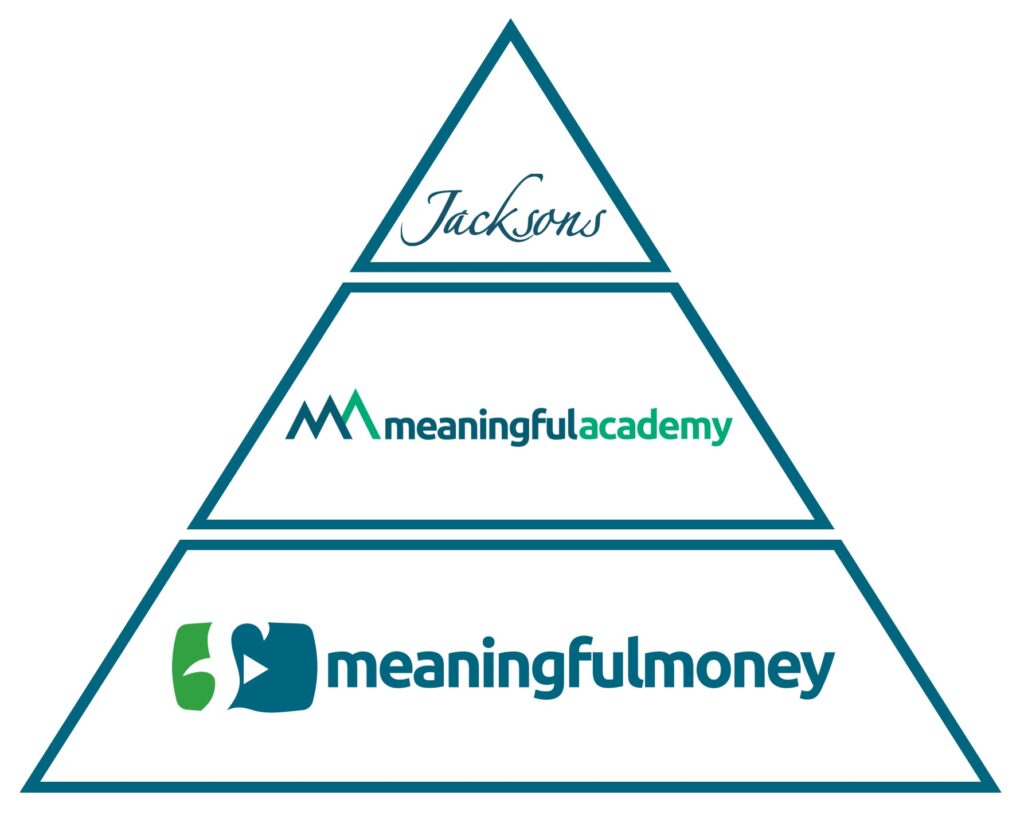 Financial advice is regulated in the UK by the Financial Conduct Authority, so any advice specific to your situation must be conducted through my practice at Jacksons Wealth Management. I am a co-owner and CEO of Jacksons Wealth, and I manage a team of advisers and administrators dedicated to helping our clients manage their money efficiently so that they can get on with living their lives.
Unusually for financial advisers, we don't insist on you handing over your pensions and investments to us to manage. We're quite happy to advise you on your financial planning and leave the implementation up to you. Of course, the vast majority of people who approach us for financial planning do end up delegating the implementation and management to us.
I cover what you can expect to pay in fees below. Below that is a short form that you can complete to send a message to us at Jacksons. We always have a no-obligation chat to discuss your needs first, to see if we are the best people to help you.
Wharfside Centre, 87a Market Jew Street, Penzance, Cornwall, TR18 2LG
What you pay depends on your circumstances. Many clients who come to us via MeaningfulMoney are quite able and willing to manage their investments themselves, they just want help with their planning, and to use the phrase so many have used, they don't know what they don't know, and want a professional adviser's input.
It's vital you understand that it may not be me personally who advises you. At Jacksons Wealth, I am building – along with my co-directors Roger Weeks and Chas Cox – an advisory practice that can serve anyone, no matter their life stage, or their level of interest in managing their own money.
Unfortunately, the spiralling costs of serving our clients compliantly means that in order to get value from the process, you're likely to have already amassed some wealth.
Step One – Financial Planning
Expect to pay between £3,495 and £4,995 plus VAT
Financial Planning is where all the value is, really. This is the stage where we take a complete look at every facet of your finances, drill down into the detail and crucially, give you the next steps you need to take to put things in the right position.
We'll complete a detailed financial projection, using industry-leading software tools, all in the service giving you absolute clarity about how you should be invested, which accounts and wrappers you should use, how you should drawdown – everything.
You will know the full amount of the fee before we begin work, and we ask for half the fee upfront, so you have skin in the game and are committed to the process. You only pay the second half of the fee when the process is complete to your satisfaction.
If you choose to implement our recommendations yourself, we remain available to you for up to three months after delivery of the advice to help you do just that.
Two more things you need to know: 1) These days I oversee the advice rather than front it myself. I have five brilliant advisers at Jacksons, all of whom are trained and mentored by me. 2) The process takes about 12 weeks from start to finish.
Step Two – Implementation
Minimum fee of £1,000, maximum of £10,000 (no VAT) depending on complexity and other factors
Implementation is the easy bit, relatively speaking! Some things are more challenging than others of course, and given the weight of UK financial services regulation falls in this stage, sometimes the costs have to reflect the business risk to us as advisers.
But again, you'll know what the fees will be before we begin the implementation work, and the planning report you receive will contain everything you need to know to implement yourself.
If we are to remain responsible for the management of your investments and pensions, then we will charge 0.75% per year of the money under our control, with a minimum of £1,500 per year. This is tiered down for amounts over £750,000.
If you made it this far – well done, and thank you! To begin the process of working together, please complete the form below, which will be sent to us securely. Please do not include specific details of your financial affairs – save that for the initial phone call!